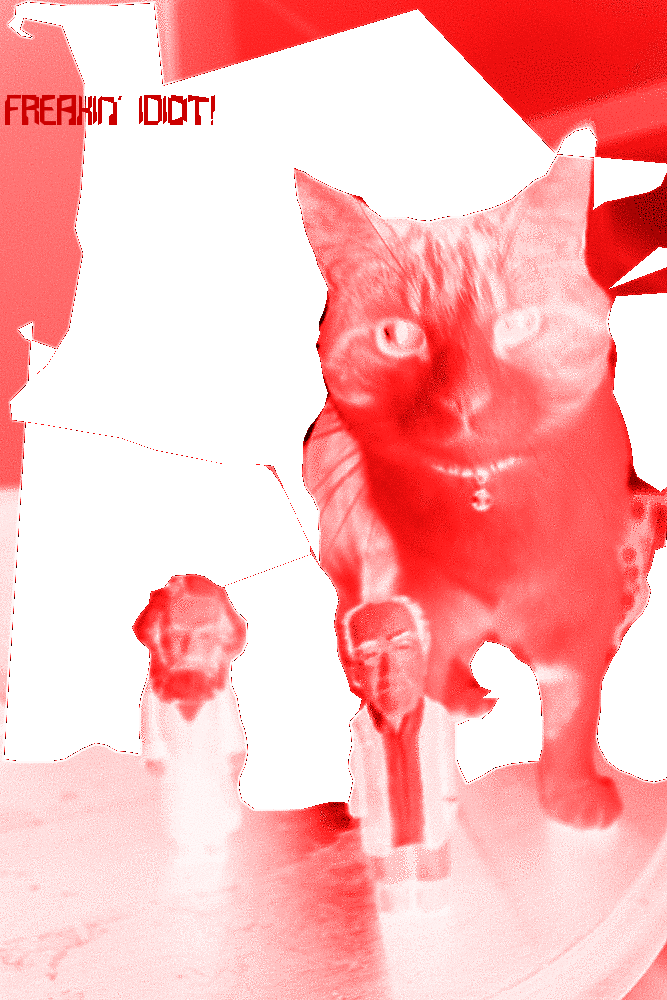 the DoLL's sCRaPYarD / heaVen **
photo - Clara, GlogauAIR Art Program, Berlin
landwehr canal (for rosa l)
Still from performance collaboration - - that almost never was
Monkey's got puppet, monkey likes puppet - Puppet is good :)
On SECOND LIFE once and asked my friend - 'What do you do in real life?' - the reply - 'This is my real life.'
exhibition featured a set by dj topgear
- - - -
bestie muckers! jun and momochi collaboration (our last day)
Jun and Momochi were a Tokyo boy and girl that I taught English to in Shinjuku - they were very close - - they refused to go to class if the other was not there - the image depicts a work we created on our last day. It was kind of a sad and sweet day.
​
I also taught a child called Kazumi! I was warned he was violent and usually attacks teachers - ok - so in walked the miniature charismatic Samurai - he was very smart but something obviously happened - thankfully he never attacked me. We drew and made crazy stories and laughed and laughed - - i hope him and his Mum are well - peace Kazumi!
awkward conversation volume 237
POEMS FOR COMMUTERS AND THE UNEMPLOYED.
​
the t-shirt
'LOOK, I DON'T HAVE YOUR STUPID T-SHIRT, I NEVER HAD IT!!'
​
'WHAT, ARE YOU SERIOUS? I LENT IT to you FOR that fancy dress night 3 YEARS AGO! I even COMPLIMENTED YOU ON HOW you LOOKED in it!! YOU TOLD ME YOU HAD IT LAST TIME i asked!!! DON'T YOU REMEMBER?? DO YOU THINK I'M IMAGINING THIS??'
​
'....PROBABLY...'
​
the job
​
'i didn't get the bloody job!'
'i'm sorry, what happened?'
'dunno, didn't even get an interview.... (head down) ....... it's a shithole town anyway'......
....' hmmm...... my friend!... you can do anything if you just focus and believe it!'
...maybe...
i can see you and i can see around the corner!!
projection - - -
​
​
- illusion
- fantasy
​
perhaps it is the puppet that is real and the puppeteer and the viewer is the illusion?
​
​
​
​
​
ROOSTER'S A GREAT LITTLE CAT - I USED TO THINK SHE HAD ASPERGER'S - please i'm serious - AS SHE WAS REAL BAD AT COMMUNICATION AND DIDN'T HAVE MANY FRIENDS - BUT NOW SHE'S GREAT FRIENDS WITH JEAN AND KARL - THOSE 2 ARE ALWAYS ARGUING BUT IT'S USUALLY JUST BANTER! ANYWAY, THEY ALL HAVE A GREAT TIME GETTING UP TO LOTS OF MISCHIEF IN THE GARDEN - SO THAT'S GREAT :)
On alienation, division, the method and harmony? for king tigger r.i.p.
Do Androids Dream of Electric Cats?
THE FULLY ENLIGHTENED EARTH RADIATES DISASTER TRIUMPHANT...
Lao Tzu TV, (after Nam June Paik)
Over Your City Grass Will Grow
i would qualify much of this film now - it is way too declaratory, dogmatic, Debord! it needs negated! don't take anything declared in it or anywhere as a firmly held conviction - they are ongoing thoughts open to negation - i do believe in quality and love art but it is complex :)
​
PhD - Exodus: Towards a Non-Identity Art
Glasgow School of Art
​
Notes on content:
​
Jean Baudrillard proclaimed that 'art is null' as it has become inextricably subsumed within the simulated world of late capitalism (The Conspiracy of Art, 1996). The research considered and questioned this provocation through developing a practice based and theoretical analysis of artist exits - of the institution, the state and authorship. aS bAUDRILLARD was of course a pataphysicist # Situationist / Marxist then his declaration(s) have perhaps to be taken as a positioning in a game - politics - theatre - is and is not serious. - and he was of course an artist/ not an artist.
The Italian Autonomist call for Exodus (Paolo Virno) and of course its Biblical, New World and Reggae connections all inspired the emergence of the study. It developed an analysis/ critique of 1984, the Turner Prize, the Tate, postcolonial power, the agency of art - the artist as Jester, Trickster - the concept of art and the artist. The altering author/ artist function through time - - the concept of critique, the developing 2008 financial crisis and the Middle East invasions - the dense dialectical/ non-dialectical POMO schism within the academic left. ...
​
Practical collaborations and individual experiments which paralleled seminal avant-garde experiments (Street art, collaborations, protests...) were carried out alongside a theoretical investigation into the avant-garde strategy of self negation and affirmation of a universal creativity (from Wagner through the Salon des Refuses, DADA, Benjamin, Fluxus, Beuys, the Situationists, the Theatre of the Oppressed...). However, as the research was driven throughout by the negative dialectics theorised by Theodor Adorno (wherein all positions are problematised to avoid a dogmatic conclusion), the thesis is in turn negated.
​​
Director of Studies: Professor Ken Neil, Professor of Art & Design & Deputy Director, Glasgow School of Art
​
Support Supervisors: Dr Mel Jordan, Head of Critical Practice, Royal College of Art, London
Professor Klaus Jung, Rector, Academy of Media Arts Cologne
​
Examiners: Professor Kerstin Mey, President, University of Limerick
Dr Francis Mc Kee, Director CCA Glasgow, MFA Tutor GSA
​
Here is a link to it (which is cringy in parts in hindsight but then that's writing and artmaking):
​
​
​
A paper abbreviating aspects on the research was published in the peer reviewed Journal of Artists Research:
​
keywords: alienation, division, negative dialectics, self negation, everyone is an artist, non-identity
​
In 2013, I organized a No Jury, No Prize exhibition - it took it's title from the rules of the experimental and overlooked artists of the alternative Parisian Salon's of the 19th century- in a way this realised the hypothesis of the research. As curator at the London Street Gallery in Derry, we organized the exhibition to run concurrent with the Turner Prize which was being held in the city (UK City of Culture). We had over 300 artists exhibit in the first year and it was broadcast live on London art radio Resonance FM and we held a big conference with speakers from GSA. Pleasingly, It ran annually for a number of years in venues both north and south Ireland.
As negation was central to the research, the 'everyone is an artist' thesis is negated in an essay for a Derry art zine entitled Szine which George Doherty and myself collaborated on - wherein I argue that today everyone must be an artist in the digital social media age - an argument which of course can in turn be negated.​ Titled Simulations: Art, Fame and Virtuality, Everyone Must Be An Artist!, here's a link:
​
​
​
​
here's another issue if interested from 2016:
​
Glasgow squirrels/ occupy 2011
spectres (on lord robert's monument, MANGAL PANDEY and imperialism)
"some might say: 'Fragmentation of cities, religions, political systems, conflict in the form of wars, general violence, fratricide, etc., are the reality. Wholeness is only an ideal, toward which we should perhaps strive.' But this is not what is being said here. Rather, what should be said is that wholeness is what is real, and that fragmentation is the response of this whole to man's action, guided by illusory perception, which is shaped by fragmentary thought."
― David Bohm, Wholeness and the Implicate Order